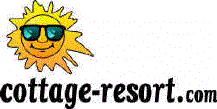 your Easy to Use Directory for Ontario Resorts, Cottages, Inns, Lodges and Cottage Resorts
MORE COMPLETE than Any Other Website
Click here for other Ontario Accommodation HOME
Ontario Family Vacations
Lodges, cottage rentals & resort
Complete directory of Ontario resorts
Ontario vacation packages
In Ontario resort country; there are many different ways to spend quality time with your family! It doesn't matter whether you are looking book a summer family vacation, a complete Ontario vacation package, or a group family reunion with all the cousins, there is a country inn, lakeside lodge, housekeeping cottage resort or full service resort that is ideal for your Ontario family holiday. A fabulous vacation for you and your family in Ontario's beautiful cottage country is just a phone call away with our complete directory of Ontario resorts. Many Ontario family resorts offer a great range of activities. No matter the size of the family or the range of ages, there are resort accommodations in Ontario. Resorts take every precaution to ensure safety and total enjoyment for your family. For family reunions, the country inns make great destinations, providing beautiful backdrops for photography and offering a great variety of outdoor activities for the entire family.
With our Ontario vacation planning directory, in the summer, you can relax on the beach at a lakefront resort, or you can enjoy a great family getaway weekend with some of the amazing golfing packages offered by many lodges and resorts. Numerous resorts offer boat rentals allowing families to go out fishing, or to tour the lake and relax. In the colder months, some winter resorts are close to skiing and snowboarding hills and others may offer trails for snowshoeing and Nordic skiing. If you are looking to take the hills less seriously, you can go to many of the natural hills and take your children tobogganing. After a fun day of family winter activities, many Ontario resorts also offer hot tubs, Jacuzzis and saunas to warm you up.
Resort country is home to many great family activities, making it a great choice for a family vacation. No matter the season, there is always going to be something for your family to enjoy. Whether it's swimming and boating in the summer time and enjoying time on the lake, or ice fishing and skating on frozen lakes for some winter time fun, there is always something to enjoy with the family on an Ontario resort vacation.
Featured Properties
Severn Lodge (Port Severn, Muskoka, Georgian Bay) 800-461-5817