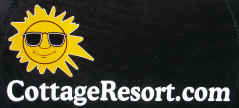 your Easy to Use Directory for Ontario Cottages, Inns, Lodges and Resorts
MORE COMPLETE than Any Other Website
Click here for other Ontario Accommodation
Limited Handicapped Facilities
Westwind Inn on the Lake (Buckhorn) 800-387-8100


4 out of 5 Rating Trip Advisor.comLakeside Country Inn & Resort located on Lower Buckhorn Lake. Access to the inn, accommodations and dining room with no stairs. Gentle slope to sand beach, ease of access to gardens and lawns. Spectacular natural wilderness setting, Cosy "log cabin" style lodge rooms. Superb dining. BE SURE TO REQUEST MAIN FLOOR ROOM WITH NO STAIRS. (We have 2 stories, stairs to 2nd). www.westwindinn.net
Sunshine Cove Cottages (Keene, Rice Lake) 1-877-295-4224
The "Resort of Choice" on Rice Lake, modern affordable 2 & 3 b/r housekeeping cottages, pet friendly, rental boats or dock your own, free wifi, weekly fish fry, licenses, bait, ice cream, excellent fishing, close to golf, shopping, casino and so much more! www.sunshinecove-ricelake.com/
Sandy Lane Resort (Minden) 800-461-1422


Canada Select Recommended. Remodeled single level Chalet (Cottage style #21) 2 bedroom, 1 double bed per bedroom, four piece bathroom, dining and kitchen area, living room with fireplace and 20" colour TV. Over 500 sq. feet of living space. Main lodge, Office, Games room, washrooms and restaurant are Handicap accessible
Sand Lake Cottages and Inn (Kearney) 705-636-5047
A Four Season Family Resort located minutes north of Huntsville, 3 and 4 bedroom cottages, 3 bedroom chalet, 3 or 4 piece baths, kitchens, Wood Stoves, fireplace, Gas Barbecues, Chalet has wheelchair ramp and bathroom assists, Boats, motors, Canoes, Shallow Sand Beach, Swimming Raft, Snowmobile rentals
Saga Resort (Wasaga Beach) 800-263-7053


4 out of 5 Rating Trip Advisor.com Saga Resort is your base for a magnificent getaway in the heart of Ontario's famous vacation playground. Spacious wheelchair accessible unit available. Free parking. Includes continental breakfast and daily housekeeping services. www.sagaresort.com..
Pine Vista Resort (Lakefield) 800-634-2848


4 out of 5 Rating Trip Advisor.com

4 Stars Canada Select Recommended A quality housekeeping cottage resort on Stoney Lake, an easy 90 min drive NE of Toronto. Three of our resort townhouses are handicap accessible as well as our office and games room. Enjoy a Honeymoon, Anniversary, Winter: skating rinks, horse drawn sleigh rides, snowmobile, seasonal rentals Summer: boating, fishing, nature trails, biking, golf, horseback riding , swimming, fireplace, whirlpool, indoor hot tub, Petroglyphs
Marrick's Landing (Burleigh Falls) 800-342-1495
Stay in one of our 2- or 3-bedroom deluxe wheelchair accessible lakefront cottages. Casual, relaxing surroundings. Breathtaking sunsets. Year round availability. Fully equipped cottages, satellite TV connection. Leashed pets welcome. http://www.marrickslanding.com/wheelchaircottage.htm
Jack's Lake Lodge - Cottages (Kawarthas) 705-656-4291
Eleven clean, comfortable 1, 2, and 3 bedroom House-keeping Cottages. Fishing for walleye, large & smallmouth bass, muskie and some lake trout. Guide Service available with tournament pro angler Joe Kaschak. Gas, oil, boat & motor rentals, paddle boat, kayak & canoe rental, horseshoes, basketball, arcade, shallow sandy beach with swim raft, beach volleyball, leashed pets permitted
Foymount Farm (Eganville, Renfrew County, Ottawa Valley) 613-754-2586
2 hours from Ottawa; our 140 acre, pet friendly hobby farm provides 2 self catering guest accommodations. Activities on the farm include: horse/ children's pony rides, feeding animals, and collecting eggs etc. Equine retreat package available May/June. Safe public beach nearby. www.foymountfarm.biz
Elmhirst's Resort (Keene) 800-461-1940


4 Stars Canada Select Recommended Housekeeping cottages on Rice Lake feature fireplace, large living area; Dining Room and Pub; Horseback riding, sightseeing flights floatplane; Health Club, beach, watersports, Open Year Round, Fall Colours, Winter Packages and Wilderness Tours
Carpenter Lake Cabins (Bruce Mines, Sault Ste Marie) 705-805-0520
Let us know your special needs. Wheel chair access ramps are available to cabins and the pontoon boat. Most cabins have raised toilets, walk-in showers or tub-showers with hand rails. www.carpenterlakecabins.com
Bondi Village Resort Dwight, Muskoka 888-300-2132
Canada Select Recommended We offer one three bedroom cottage equipped for wheelchair access. Cottages have electric heat, gas fireplaces, full kitchens and great views of the lake. Contact us for more details. www.bondi-cottage-resort.com
Bobs Lake Cottages ( Maberly, Godfrey, Kingston) 215-546-7131
Wheel chair accessible. Everyone has the right to a wilderness lake! See our accessible apartment, part of our cottage compound on Bobs lake. Compound sleeps up to 33. Lakefront is feet from our cottages. Wheel chair fits on Pontoon boat. www.bobslakecottages.com/
Birch Cliff Lodge (Bancroft) 613-332 -3316
Comfortable, well cared for, cottage resort. Modern bathrooms, kitchens, thermostatically controlled heating, open decks or screened porches, some fireplaces, lovely beach, boats, canoes, children's playground, Summer children's programs, Fishing for bass, walleye, and muskie on Baptiste Lake www.birchclifflodge.ca
Bayview Wildwood Resort (Gravenhurst) 800-461-0243


4 out of 5 Rating Trip Advisor.com Year-round vacation resort on Sparrow Lake, only 90 minutes drive north of Toronto. Ideal for family vacations, getaways and small meetings, we have a mixture of rooms, suites and cottages, delicious meals, and numerous choices of outdoor recreation.
Ahmic Lake Resort (Ahmic Harbour, Almaguin Highlands, Parry Sound Area) 866-857-7946


5 out of 5 Rating Trip Advisor.com only 2 ½ hours north of Toronto, near Parry Sound. Newly renovated lakefront and lakeview cottages, fully equipped, some with private hot tubs. Lot's of amenities like swimming area with water park, boat rentals, kayak and canoe rental, adventure playground, volleyball, Ping Pong, horseshoe pits, hiking trails, fishing, etc., Pet Friendly ,Weddings, Meetings, licensed restaurant and lounge, convenience store on site. www.ahmiclakeresort.com
Copyright © 1999-2016 [Beauview Hospitality Marketing] All rights reserved
or by Mail to: Gord / Nancy Bell 4215 South Portage Rd.
RR#2 Huntsville, Ontario Canada P1H 2J3