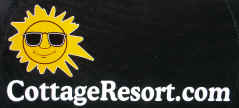 your Easy to Use Directory for Ontario Cottages, Inns, Lodges and Resorts
MORE COMPLETE than Any Other Website
Area MAP Click here for Ontario Accommodation

Ontario's Accommodation Grading System
To get any grading, the property must meet or exceed the Canada Select standards of Cleanliness, Comfort and Safety Accommodations Grades Details List your Tourism Property
Canada Select Recommended Properties
Ahmic Lake Resort (Ahmic Harbour, Almaguin Highlands) 866-857-7946


3 Stars Canada Select Recommended only 2 ˝ hours north of Toronto, near Parry Sound. Above standard, newly renovated lakefront and lakeview cottages, fully equipped, some with private Hot tubs. Lot's of amenities like Gym, Beach, Boat rental, swimming, Playgrounds Hiking trails, Fishing and more. Pets Welcome. All inclusive Packages available. Licensed Restaurant and Lounge on Site. www.ahmiclakeresort.com
Arrowhead Inn Huntsville, Muskoka 800-561-9189
Next to Arrowhead Provincial Park, 30 minutes from Algonquin Park, Modern, large and comfortable rooms Fully equipped kitchenettes Licensed Restaurant with a choice of Canadian and European meals. All motel rooms come with colour cable T.V.'s A.C., Direct Dial Phones. Non Smoking Rooms are available. Some rooms are for people traveling with pets. Open Year Round Snowmobilers, park right in front of your motel room! www.arrowheadinn.ca/
Balsam Resort (Rosedale, Fenelon Falls) 800-561-5040


2 1/2 Stars Canada Select Recommended Gentle sand beach, Clear, clean lake, tall pines, Gorgeous sunsets. A fine quality self catering resort on Balsam Lake, Trent Severn Waterway, Studios, Apartments, townhouses, or chalets, 300 feet of sand beach, water slide, canoes, paddleboats, boat rentals, Fish for Walleye/Pickerel, Bass and Muskie, 3 golf courses nearby, Winter: Cross Country Skiing, Snowmobiling and ice skating www.balsamresort.com
Beachwood Resort (Buckhorn) 888-313-1118


3 Stars Canada Select Recommended Accommodations to suit everyone. Lakeside cottages, condos, and hotel rooms. Rent by the day or week. Licensed dining room, meal packages, self-catering, boat & motor rentals, gift shop, great fishing. Included - canoes, kayaks, pedal boats, kids program, water-skiing, tubing, water trampoline, heated outdoor pool, playground. www.beachwoodresort.com
Beauview Cottage Resort Huntsville 800-363-6047


3 Stars Canada Select Recommended - A small, quiet, friendly year round lakeside resort with 6 housekeeping cottages on Lake of Bays, Muskoka . 2 hours north of Toronto, gas fireplaces, TV/VCR with satellite, cottages with jacuzzi tub, personal hot tubs, paddleboats, canoes and kayaks. Golf courses, Algonquin park nearby, Ice skating rink, Snowmobile Trails, Cross Country/Downhill Ski, Snow Tubing nearby
Bondi Village Resort Dwight, Muskoka 888-300-2132


2 1/2 Stars Canada Select Recommended Modern 2-6 bedroom units on Lake of Bays. Relaxed, uncrowded family vacations on our own 600 acres. Fully equipped modern kitchens, 3 or 4 piece baths, All with superb uncrowded views. Canoe, and boat rentals. 15 km of hiking/cross country ski trails . www.bondi-cottage-resort.com
Colonial Bay Cottages Dwight 800-916-2008
Canada Select Recommended Peninsula Lake, close to Huntsville and Algonquin Park. Accommodation ranging from deluxe cottages for weekly stays during the summer, to studio rooms available for shorter stays. Check availability online at www.colonialbay.com/reservations.htm
Elmhirst's Resort(Keene) 800-461-1940


4 Stars Canada Select Recommended Housekeeping cottages on Rice Lake feature fireplace, large living area; Dining Room and Pub; Horseback riding, sightseeing flights floatplane; Health Club, beach, watersports, Open Year Round, Fall Colours, Winter Packages and Wilderness Tours
Fairy Bay Guest House (Huntsville) 888-813-1101


4 Stars Canada Select Recommended A luxurious country home on Fairy Lake, built 1997. Seven large, charming bedrooms with ensuite baths and a one-bedroom suite. Boats, bicycles, sand beach, gardens, barbecue, common kitchenette. Wonderful breakfasts served.
Gananoque Inn 800-465-3101


4 1/2 Stars Canada Select Recommended A beautiful restored historic 57 room, 106 year old Inn on the banks of the St. Lawrence River, in the heart of the 1000 Islands, 18 miles east of Kingston
Halimar Lodge (Haliburton) 800-223-7322


3 1/2 Stars Canada Select Recommended The Quiet place with Outstanding cuisine! Year round on Lake Kashagawigamog, For families, couples, family reunions. Standard rooms to luxurious cottages (TV, Fireplace, double jacuzzi) for only up to 50 guests, family operated, BIG heated outdoor pool, tennis, boats, sailboats, 650 feet sandy beach, kid's program, golf nearby, New Sauna and fitness room, Hot Tub, Winter: Cross country and Downhill Skiing closeby
Long Beach Cottages &Trailer Park (Sturgeon Lake, Kawarthas) Toll-Free 1-866-274-4403
Reasonably priced and fully equipped family cottages. Pet Friendly. 2 hrs from Toronto. BBQ, firepit, sand beach, rental boats, FREE movies, games, books. FREE paddle boat and canoe. Seasonal Trailer Sites only $1,495. Full season. Call today! www.longbeachcottages.ca
Nor'loch Lodge Resort (Dwight, Muskoka) 800-565-2231
Lake of Bays, bordering Algonquin park. Tall pines and magnificent lake view private cottages, woodburning fireplace and deck or deluxe Jacuzzi suites, fireplace and deck. B & B or self catering options, all season activities or pamper yourself at our local spas or Yoga Studio. Check our packages page for great specials. www.norloch.com Canada Select recommended
Ogopogo Resort on Mountain Lake (Minden) tollfree 866-405-8938


3 Stars Canada Select Recommended A luxurious four-season cottage resort in the Haliburton Highlands, only 2-1/2 hours from Toronto . If you are looking for a quiet retreat with lots of outdoor activity in any season, check out our website. We specialize in outdoor packages.
www.ogopogoresort.com
Pine Vista Resort (Lakefield) 800-634-2848


4 Stars Canada Select Recommended A year round housekeeping cottage resort on Stoney Lake in the Kawarthas. Pool, hot tubs, beach, playground, kayaks, canoes, fishing, shuffleboard, games room, fitness room, massage therapy, hiking/biking/skiing trails, toboggan hill, ice rink. Many exciting and economical packages. www.pinevista.com
Pleasant Cove Resort (Pointe au Baril, Georgian Bay) 888-641-4629


4 Stars Canada Select Recommended 25 minutes north of Parry Sound. Modern private housekeeping cottages, fireplaces. Open year-round for families, fishing, cross country skiing and snowmobiling. Access to the 30,000 Island wilderness fishing in Georgian Bay. Tennis court, pool, whirl pool, sauna, rental boats and motors, sand beach. Fish: Giant Northern Pike, Walleyes, Small Mouth Bass and Muskie. www.pleasantcove.com
Sandy Lane Resort (Minden) 800-461-1422


3 Stars Canada Select Recommended. Halls Lake. 2 or 3 bedroom chalets with TV, wood burning fireplaces. Sand beach, playground, canoes, paddleboats, mtn. bikes. Waterskiing, seadoo and fishing boat rentals onsite. Tennis, Golf, horseback riding, hiking nearby. Winter: endless snowmobiling, skiing, ice skating. Hot tub under the stars. New Social centre with banquet facilities
Scotsman Point Resort (Buckhorn) 800-267-1310


2 1/2 Stars Canada Select Recommended Buckhorn Lake- Kawarthas, a 99 min. drive NE of Toronto. Spacious grounds, friendly family atmosphere.1-4 bedroom cottages, kitchens, tv, gas bbq. Safe sandy beach, children's activities, playground, shuffleboard, water sports, golf. Fishing, boats, motors & canoes. Spring & Fall Midweek Specials
Severn Lodge (Port Severn, Muskoka, Georgian Bay) 800-461-5817


4 out of 5 Rating Trip Advisor.com

4 Stars Canada Select Recommended Just the two of you or the entire family can enjoy a fun-filled yet relaxing vacation at one of Ontario's premier lakeside family resorts. Fully inclusive packages feature waterfront accommodations, delicious meals, waterfront sports & recreation, summertime kids activities & evening entertainment, and more! Only 90 min. from Toronto / Open May-Oct / Check Availability and Book Online
Sunny Point Resort Cottages-Inn (Parry Sound) 800-265-0432


4 1/2 out of 5 Rating Trip Advisor.com

3 Star Canada Select Recommended, Luxury in private, quiet surroundings, Open year round, self catering cottage resort on Otter lake, Deluxe 3 and 4 bedroom cottages, pets welcome, and efficiency units, wood burning fireplaces, kitchens, 4 piece baths, Sauna, tennis, canoes, kayaks, boats and motors, and cross country ski trails on site. www.sunnypointresort.com
Trillium Resort and Spa (Port Sydney, Muskoka) 800-263-6600


4.5/5 Rating on TripAdvisor. Nestled among 86 acres of pristine forest and woodlands, a spirited waterfall and a semi-private lake, Trillium Resort & Spa, located in the heart of Muskoka, offers the perfect adult-only vacation getaway. Visit us at www.trilliumresort.com
Copyright © 1999-2015 [Beauview Hospitality Marketing] All rights reserved