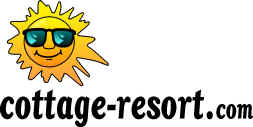 your Easy to Use Directory
for Cottages, Inns, Lodges & Resorts
MORE COMPLETE than Any Other Website
On The Road - Information For Motorists
A valid driver's license from any country is good in Ontario for three months. You also have the option of obtaining an International Driver's License before you visit.
If you are driving into Ontario or importing a vehicle, bring with you its registration documents, and either a Canadian Non-Resident Motor Vehicle Liability Insurance Card (obtained from your insurance agent), or else the insurance policy itself.
If you are driving a borrowed car, bring a letter of permission signed by the owner. If you're driving a rented car, bring a copy of the rental contract.
The driver of your motor vehicle must be 16 years old or more.
Car rental operations may impose a higher age minimum as a condition of rental.
Ontario's traffic rules may be a little different from those you're accustomed to at home. Here's a list of traffic tips for your visit.
Stopping for School Buses. Traffic in both directions (except on divided roads or highways) must stop for a yellow school bus when its red lights are flashing and its stop arm is extended.
Right Turns on Red Lights. Right turns may be made on red lights unless otherwise sign posted. You must come to a full stop at the light, but may proceed with caution if the way is clear.
Radar Warning Devices. It is illegal to use or transport radar detection devices in Ontario. Ontario police may confiscate such devices and may fine you as well.
Seat Belts and Car Seats for Children. Ontario law requires all drivers and passengers in motor vehicles to wear seat belts or use appropriate car seats. Not wearing a seat belt can result in a $90 fine and two demerit points. There are only very limited exceptions, mainly for cars manufactured before 1971 and for passenger seats in certain situations.
You are required to use special protection devices for small children in your vehicle. The driver is responsible for the safety of all passengers under the age of 16 years.

Children over 18 kg (40 pounds) must use either a regular lap seat belt or an equivalent booster seat. Children from 9 to 18 kg (20 to 40 pounds) must travel in a front-facing child restraint seat. Children from birth to 9 kg (to 20 pounds) must travel in a rear-facing child restraint system. It is recommended that all children under the age of 12 should be seated in the back seat of the vehicle where the front seat is equipped with an air-bag. Never place a rear-facing infant safety seat in a seating position where there is an air bag.
Bring appropriate devices if you can. Many car rental agencies can supply seats, but before you take the car, check carefully to ensure they work properly, and are the right ones for your child.
Hitchhiking is not allowed on major (controlled-access) highways.
Don't drink and drive. Driving motorized vehicles, including all-terrain vehicles, snowmobiles and baots, while impaired is illegal. You can immediately lose your licence for 90 days for refusing to take a breathalyzer test or having a breathalyzer reading greater than 80 mg (0.08%) of alcohol per 100 ml of blood. Charges may be laid under the Criminal Code of Canada for drinking and driving, which upon conviction may also result in loss of driving privleges for at least one year.
Speed limits are measured in kilometres per hour. Speed limits on most highways are 80 to 90 km/h and on freeways 100 km/h. On city streets the normal speed is 50 km/h unless otherwise posted. See Ontario speed limits and mph equivalent chart below.
Freeways
(multi-lane controlled-access, usually #400 series).

100 km/h = 62 mph
90 km/h = 55 mph

On two-lane highways.

90 km/h = 55 mph
80 km/h = 50 mph

In urban and other built-up areas.

70 km/h = 48 mph
60 km/h = 36 mph
40 km/h = 25 mph
30 km/h = 19 mph

We use metric measures for highway speeds and map distances.
One kilometre equals about 5/8 of a mile.
To convert from kilometres to miles, multiply kilometres by 0.6.
To convert from miles to kilometres, multiply miles by 1.6.

Road Distances to Ontario Destinations from Major U.S. Cities
U.S. City
Canadian City
Road Distance
Albany to
Niagara Falls
Toronto
754 km (471 mi.)
622 km (389 mi.)
Baltimore to
Niagara Falls
Toronto (via Erie)
Toronto (via Syracuse)
819 km (512 mi.)
918 km. (594 mi.)
950 km (594 mi.)
Boston to
Toronto
Niagara Falls
906 km (566 mi.)
774 km (484 mi.)
Chicago to
Windsor
Sarnia
Toronto
Niagara Falls
Ottawa
SaultSte. Marie
Thunder Bay
Kenora
480 km (300 mi.)
536 km (335 mi.)
854 km (534 mi.)
861 km (538 mi.)
1,238 km (774 mi.)
821 km (513 mi.)
1,062 km (664 mi.)
1,226 km (766 mi.)
Cincinnati to
Windsor
Toronto
Niagara Falls
430 km (269 mi.)
805 km (503 mi.)
811 km (507 mi.)
Cleveland to
Windsor
Sarnia
Niagara Falls
Toronto
272 km (170 mi.)
390 km (242 mi.)
352 km (220 mi.)
475 km (297 mi.)
Dallas to
Windsor
Toronto
Niagara Falls
Sault Ste. Marie
Thundar Bay
Kenora

1,949 km (1,218 mi.)
2,323 km (1,452 mi.)
2,2330 km (1,456 mi.)
2,296 km (1.435 mi.)
2,078 km (1,299 mi.)
2,240 km (1,400 mi.)
Des Moines to
Toronto
Sault Ste. Marie
Thundar Bay
Kenora
1,378 km (861 mi.)
1,416 km (885 mi.)
960 km (600 mi.)
1,104 km (690 mi.)
Detroit to
Sarnia
Toronto
Niagara Falls
Kingston
Ottawa
Huntsville
Collingwood
North Bay
Cochrane
96 km (60 mi.)
378 km (236 mi.)
384 km (240 mi.)
621 km (388 mi.)
762 km (476 mi.)
560 km (350 mi.)
435 km (272 mi.)
680 km (425 mi.)
1,051 km (657 mi.)
Indianapolis to
Windsor
Toronto
Niagara Falls
Sault Ste. Marie
Thunder Bay
542 km (339 mi.)
917 km (573 mi.)
923 km (577 mi.)
1,055 km (628 mi.)
1,360 km (850 mi.)
Kansas City to
Windsor
Toronto
Niagara Falls
Sault Ste. Marie
Thunder Bay
Kenora
1,346 km (841 mi.)
1,720 km (1,075 mi.)
1,726 km (1,079 mi.)
1,574 km (984 mi.)
1,266 km (791 mi.)
1,429 km (893 mi.)
Milwaukee to
Windsor
Sault Ste. Marie
Thunder Bay
Toronto
Niagara Falls
624 km (390 mi.)
678 km (424 mi.)
939 km (587 mi.)
998 km (624 mi.)
1,005 km (628 mi.)
Minneapolis to
Windsor
Toronto
Niagara Falls
Sault Ste. Marie
Thunder Bay
Kenora
1,056 km (660 mi.)
1,555 km (972 mi.)
1,437 km (898 mi.)
848 km (530 mi.)
552 km (345 mi.)
696 km (435 mi.)
New York City to
Kingston
Ottawa
Toronto (via Buffalo)
Niagara Falls
645 km (403 mi.)
736 km (460 mi.)
808 km (505 mi.)
677 km (423 mi.)
Philadelphia to
Niagara Falls
Toronto
685 km (428 mi.)
816 km (510 mi.)
Pittsburgh to
Windsor
Toronto
Niagara Falls
450 km (281 mi.)
518 km (324 mi.)
387 km (242 mi.)
St. Louis to
Windsor
Toronto
Niagara Falls
Sault Ste. Marie
Thunder Bay
Kenora
936 km (281 mi.)
1,310 km (819 mi.)
1,317 km (823 mi.)
1,261 km (788 mi.)
1,368 km (855 mi.)
1,531 km (957 mi.)
Syracuse to
Niagara Falls
Toronto
264 km (165 mi.)
392 km (245 mi.)
Washington to
Niagara Falls
Toronto (via Erie)
Kingston
768 km (480 mi.)
899 km (562 mi.)
810 km (506 mi.)

Road Distances to Toronto from Major Canadian Cities.
| | |
| --- | --- |
| Calgary, Alta. | 3,483 km (2,177 mi.) |
| Charlottetown, P.E.I. | 1,797 km (1,123 mi.) |
| Edmonton, Alta. (via Saskatoon) | 3,483 km (2,177 mi.) |
| Edmonton, Alta. (via Calgary) | 3,776 KM (1,123 mi.) |
| Fredericton, N.B. | 1,432 km (895 mi.) |
| Halifax, N.S. (via Trans Canada Hwy.) | 1,926 km (1,204 mi.) |
| Halifax (via U.S.A.) | 1,896 km (1,185 mi.) |
| Montreal, Quebec | 558 km (349 mi.) |
| Moose Jaw, Sask. | 2,704 km (1,690 mi.) |
| Quebec City , Quebec | 816 km (510 mi.) |
| Regina, Sask. | 2,704 km (1,690 mi.) |
| Saskatoon, Sask. | 2,957 km (1,848 mi.) |
| Sydney, N.S. | 2,162 km |
| Vancouver, B.C. (via Trans Canada Hwy.) | 4,550 km (2,844 mi.) |
| Vancouver (via Sarnia) | 4,446 km (2,779 mi.) |
| Vancouver (via Chicago) | 4,493 km (2,808 mi.) |
| Whitehorse, Yukon Territory. | 5,554 km (3,471 mi.) |
| Winnipeg, Man. (via Trans Canada Hwy.) | 2,115 km (1,322 mi.) |
| Winnipeg, Man. (via Sarnia) | 2,160 km (1,350 mi.) |
| Winnipeg, Man. (via Chicago) | 2,322 km (1,451 mi.) |
| Yellowknife, N.W. Territories. | 4,982 km (3,114 mi.) |
Car rental services are available in most medium to large cities and at international airports.
In most cases, the renter must have a valid driver's license, be at least 21 years old, and must provide an acceptable form of credit arrangement, usually a major credit card.
The company will usually offer you a choice of optional accident insurance packages, the cost of which is added on to the rental and any kilometrage charges.

Tolls
Tolls will be charged for using international bridges and tunnels, some ferries, and Highway 407 north of Toronto.
Motor fuel (car, truck, motorboat and snowmobile)
Commercial service stations in Ontario sell unleaded gasoline in regular and premium grades. Leaded gas cannot be legally sold in Ontario. Some stations -- especially those along major highways and in larger cities -- also sell propane, diesel fuel, and (rarely) ethanol. Motorboat fuel is available at marinas and ship supply stores around the province.
We use metric measurements for motor fuel. Gasoline, diesel and propane are measured in litres. 1 litre equals about one-quarter of an American gallon, or about one-fifth of an Imperial gallon.
Fuel service station hours vary widely. Many close at 7 p.m. and some do not open at all on Sundays. 24-hour stations are generally found only in larger cities and near the larger highways.
Fuel stations can usually be found within a few blocks after exiting the 400-series numbered highways that cross Ontario's urban areas. In rural areas, preceding many freeway exits, you will find a sign with a generic brown and white gas-pump symbol. This sign will lead you to an extended-hours gas station within 5 kilometers of the exit, that sells gasoline (plain pump), diesel fuel (pump marked with a "D") or propane (pump marked with a "P").
Road Conditions and Other Road Information
Ontario has a good network of roads and highways. All roads are cleared of snow in the winter months. Information on highway conditions and road construction locations in the province is available year round from the Ontario Ministry of Transportation by calling toll-free 1-800-268-1376 or locally at (416) 235-1110. Complimentary Ontario Official Road Maps can be obtained by calling 1-800-ONTARIO or by visiting any one of our Ontario Travel Information Centres.
Local city and regional maps are available from most chambers of commerce, map distributors, and at many bookstores and variety stores.
Twenty-four hour fuel and service stations can be found in larger centres and along main highway routes.
Special care should be taken when driving in storm and ice or snow conditions. On longer road trips in rural areas, please call in advance for information on local road conditions (Travel Information Centres). Make sure your vehicle is in good driving condition and that you have adequate fuel.
For lengthy trips in remote locations during severe weather, you should carry supplies such as traction material (pads, sand, grit, salt), a shovel, blankets, a candle and lights. With the exception fo a few of the province's supervised ice bridges, do not drive out on lake or river ice.
Studded tires are forbidden on Ontario highways, as are tinted windshields or front- seat side windows that do not allow a clear view of the vehicle's interior.
Emergency Services
The Ontario Provincial Police (O.P.P.) are responsible for provincial highways and other areas, including inland lakes and waterways, not served by municipal police forces.
If you are involved in a motor vehicle accident, you must notify the police, and must remain at the scene of the accident until cleared by investigating officers.
O.P.P police stations are located along major highways. Look for a small yellow sign displaying "O.P.P" in black letters. On highways and some city roads, look for special hospital signs bearing a white "H" on a blue square.
The Canadian Automobile Association (CAA)'s local Ontario affiliates provide reciprocal services to members of international Automobile Associations, including the American Automobile Association (AAA). Obtain travel information from your home club.
Ontario CAA offices (formerly offices of the Ontario Motor League) are listed in the telephone books of major Ontario cities.