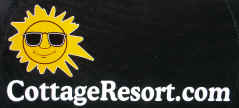 your Easy to Use Directory for Ontario Resorts, Camps, Cabins, Cottages, Inns, Lodges and Cottage Resorts
MORE COMPLETE than Any Other Website
Click here for other Ontario Accommodation HOME

Ontario SMALL GROUP Getaways for Quilting, Bridge, Yoga, Hiking, Photography, Reunions

Featured Properties:
Cedar Grove Lodge (Huntsville, Muskoka) 800-461-4269
19 lakeside cottages with all meals included, a great resort for your small group gathering. Yoga, Quilting, Hiking groups as well as Nursing school reunions, have all made Cedar Grove their yearly home for an intimate group getaway during our off season. Let us welcome your group next! Near Huntsville, Muskoka. A Muskoka Tradition since 1927 www.cedargrove.on.ca
OR Enter Name, Town, region, or keywords
SEARCH for Ontario Resorts, Inns, Lodges, Cottage Resorts:

North Muskoka Accommodation (Huntsville, Dwight, Algonquin)


11 great lakeside accommodation choices in Scenic Muskoka. Something for everyone for a perfect getaway. Close to Algonquin Park for hiking and moose sightings.