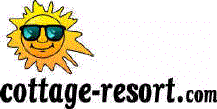 your Easy to Use Directory for Cottages, Inns, Lodges and Resorts
MORE COMPLETE than Any Other Website
Click here for other Ontario Accommodation HOME
Privacy Statement
The Cottage-Resort.com will not, under any circumstances or in any manner, provide your name, mailing address, postal code, e-mail address or any other personal or identifying information to any third party, except as required by law.
We do not automatically gather any personal information from you, such as your name, phone number, e-mail or address. This information is only obtained if you supply it voluntarily, usually through contacting us via e-mail, or registering with a form on our site.

Any personal information you do provide is protected under the federal Privacy Act.

We use software that receives and records the Internet Protocol (IP) address of the computer that has contacted our Web site. We make no attempt to link these addresses with the identity of individuals visiting our site. We do not utilize cookies.

Visitor information is collected solely to respond to inquiries and to send promotional messages only to those who've expressly opted in.

Visitor information is not disclosed to anyone except Cottage-Resort.com personnel who need the information, e.g., to respond to a request.

We do not want to send you e-mail that you do not want to receive. We maintain opt-in e-mail lists for communicating general announcements, new product offerings and special offers, but you will not be added to any of these lists by visiting our web site unless you choose to do so.

Our site provides users the opportunity to opt-out of receiving promotional/marketing information from us. You can use any of the following methods to advise us:

You can send mail to the following postal address:
Cottage-Resort.com 4215 South Portage Rd. RR#2 Huntsville, Ontario Canada P1H 2J3

You can call us at: 1-705-789-3004

You can Fax us at: 1-705-789-3881
You can e-mail us at: gordon@cottage-resort.com with "Unsubscribe" in the Subject heading of your email.

Please be sure to send the e-mail from the address you wish to have deleted or if sending from a different email address, be sure to include the e-mail address you want us to delete.
This site contains links to other sites. Cottage-Resort.com is not responsible for their privacy practices or their content.
For questions or comments regarding this policy or for additional information about the administration of the Privacy Act at Industry Canada, contact us by e-mail or call 705-789-3004 If you are not satisfied with our response to your privacy concern, you may wish to contact the Office of the Privacy Commissioner.
Gord, Nancy and Suzanne Bell, Cottage-Resort.com
Copyright © 1999,2000, 2001, 2002, 2003, 2004 [Beauview Hospitality Marketing] All rights reserved