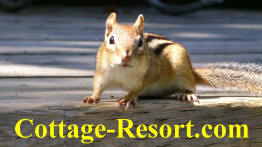 your Easy to Use Directory
for Ontario Resorts, Cottages, Inns, Lodges, Cabins and Cottage Resorts
MORE COMPLETE than Any Other Website
Click here for Ontario Accommodation HOME
Algonquin Park, Bancroft, Dwight, Whitney, Barry's Bay
Click here for the official Algonquin Park website
Featured Properties
Discount holiday packages
Resorts, lodges and cottage rental accommodations
Complete directory of Ontario resorts
There are few more desirable vacation spots in Ontario and discount holiday packages than the Algonquin Provincial Park. Algonquin Park is located North of Haliburton and north east of the Muskoka on Hwy 60 and is considered to be a premier Ontario tourist attraction. Algonquin Park is not only Ontario's first provincial park, but it is also its largest. Algonquin Park is a protected reserve designated for wildlife preservation and admiration. Visitors can walk through the woods on dozens of designated trails that offer amazing views of wildlife and Ontario forestry, whilst preserving and protecting it.
Algonquin Park is the perfect place for a great day of fun and exercise for the whole family. If you are looking to spend more than a day here, there are many different accommodations close to Algonquin Park, including resorts, lodges and rental cottages. A very popular way to spend the night in the Algonquin Park is camping out in a tent, which is offered at many different camp sites, available by reservation.
There are many different attractions that are based within Algonquin Park, including the Algonquin Park Visitors Centre, the Algonquin Art Centre and Logging Museum. These three facilities introduce Park visitors to the human and natural history of the Park through exhibits, interactive displays, video, as well as art. They also provide a great place to have a break and catch your breath from the hiking and other outdoor activities. There is always something to do in Algonquin Park, no matter what the season. The Park offers amazing fishing trips throughout the year, and as well, great backpacking and hiking adventures. During the summer and fall, Algonquin Park offers some of the best canoeing to be had anywhere. People are able to bring in their own canoes and the Park also offers rental canoes. During the fall, the Park's main attraction is the autumn colours. Fall colour tours are famous in Ontario cottage country. Thousands of tourists come every year to see the extravagant natural wonder of the autumn leaves. In the winter months, Algonquin Park offers great trails for cross country skiing and snowshoeing, but a local favourite is the dog sledding that is available. This is a truly unique experience and one that is not easily forgotten.
Algonquin Park has miles of hiking trails, far more than can be done in a weekend visit. Each trail offers new and unique scenes and breathtaking wildlife. This is what makes Algonquin Park such an amazing place to visit. Whether it is a family getaway or a couples romantic weekend, Algonquin Park resorts offer an unforgettable experience. Please review our Ontario vacation planning directory for more ideas.
Hay Lake Lodge and Cottages
(Algonquin Park - Whitney)
613.637.2675

Trip Advisor Certificate of Excellence 2015
Your own
private log cabin
. Quiet and 15 minutes from Algonquin Park. Complimentary breakfast delivered each morning. First-class housekeeping facilities. Privacy with a personal touch. Get away, get together with friends. Canoe or kayak, bike or relax .3 1/2 hours from Toronto;
on Algonquin's Quiet Side
.
www.haylakecanada.com
Blue Moon Retreat (Bancroft/Barrys Bay) 800 659 9448
4 seasons housekeeping cottage resort - only 6 cottages, 1,500' frontage on peaceful lake. 200+ satellite TV channels, AC. Washer/dryer, Jacuzzis, fireplaces, dishwasher, high speed Internet, Hot Tubs & sauna, tennis, fishing, swimming, canoeing, paddle boats, kayaks - All at no extra cost. Partner discount coupons. Click here to directly check for vacancies.
Cedar Grove Lodge (Huntsville) 800-461-4269
Individual lakeside cottages on Peninsula Lake. All rates include 3 meals per day. All cottages have a wood burning fieldstone fireplace, we supply all wood and firelogs free of charge. Free use of all non motorized boats, fishing, tennis, swimming, hiking and relaxing on the dock! www.cedargrove.on.ca
Tally Ho Inn (Huntsville) 800-461-4232
Resort on Peninsula Lake offering various styles of rooms, units, suites, cabins & cottages. Most with wood burning fireplaces, some with full kitchens. Home made meals available. Pets welcome. Tennis, shuffleboard, whirlpool, sauna, boat rentals, fishing for smallmouth bass & trout. Winter: Snowmobile trails, downhill, cross country skiing, snow tubing closeby. www.tallyhoinn.com
Beauview Cottage Resort Huntsville 800-363-6047


5 out of 5 Rating Trip Advisor.com Canada Select Recommended - A small, quiet, friendly unpretentious, lakeside resort with 6 housekeeping cottages, on Lake of Bays. 2 hours north of Toronto, gas fireplaces, jacuzzi tubs, Personal HOT TUBS, satellite TV, free internet, paddleboats, canoes and kayaks. Water trampoline, Ice skating rink. Snowmobile Trails, Cross Country/Downhill Ski park closeby www.beauview.com
North Muskoka Accommodation (Huntsville, Dwight, Algonquin)
15 great lakeside accommodation choices in Scenic Muskoka. Something for everyone, for any season. 2.5 hours North of Toronto, between Huntsville and Algonquin Park.
Algonquin Bound Inn (Dwight, Algonquin) 705-635-1818
Found next to the West Gate of Algonquin Park, we provide clean, comfortable, lakeview rooms and suites. Our affordable rates and full service outfitting store allow you to explore the park by day and enjoy a warm bed at night. www.algonquinboundinn.com
Algonquin Woods Cottage Resort (Clear Lake, Emsdale) 705-636-5612
10 cozy, quaint & clean housekeeping cottages on Clear Lake, 15 minutes from Huntsville. A splendid family oriented vacation destination Winter, Spring, Summer or Fall. Excellent location with easy access to all the Huntsville area has to offer in all 4 seasons. www.algonquinwoods.com
Arowhon Pines (Algonquin Park) 866-633-5661
Peace & quiet in the wilderness! Charming all-inclusive summer resort in the middle of the woods – log cabin accommodation, superb dining room (three meals per day) & use of all facilities – canoes, kayaks, hiking, swimming in the lake, tennis, relaxing & seeing wildlife. Famous restaurant open to the public. BYOB. www.arowhonpines.ca
Barry's Bay Cottages (Barry's Bay, Algonquin) 800-218-0738
Private, clean 2 & 3 bedroom lakefront cottages on beautiful Carson Lake. Close to Algonquin Park. Private decks, docks, fire pits, hot tubs, fireplaces, internet, satellite TV. Canoeing, fishing, beach, children's play area, ATV, snowmobile trails...Open year round www.barrysbaycottages.com
Bartlett Lodge (Algonquin Park) Summer 705-633-5543 Winter 905-338-8908
On Cache Lake, a brief boat ride from the Landing. Offers a modified American Plan vacation while staying in a modern lakeside log cabin or cottage with screened porch. New guest lounge, friendly staff, and superb contemporary cuisine rated *** 3 stars by Toronto Life magazine. Walk, hike, bike the park trails. Kayaks, paddleboats and mountain bikes. May - October www.bartlettlodge.com/
Beauview Cottage Resort Huntsville 800-363-6047


5 out of 5 Rating Trip Advisor.com Canada Select Recommended A small, quiet, friendly unpretentious, year round lakeside resort with 6 housekeeping cottages, Two new cottages, on Lake of Bays. 2 hours north of Toronto, gas fireplaces, jacuzzi tubs, Personal HOT TUBS, satellite TV, paddleboats, canoes and kayaks. Water trampoline High speed satellite wireless internet, Ice skating rink. Snowmobile Trails, Cross Country/Downhill Ski, Snow Tubing closeby www.beauview.com

Bevaline Cottage Resort (Barry's Bay, Trout Lake) 1-888-205-7912 1 613 756 2614
Open Year Round 1/2 hour from Algonquin Park. Modern cottages and cabins, campsites, friendly pets are welcome, safe, sandy beach; boating and canoeing, fishing - lake trout, pickerel, whitefish and bass, children's playground, swim raft. An ideal spot for young families with small children. www.bevalinecottageresort.com

Birch Cliff Lodge (Bancroft) 613-332 -3316
Birch Cliff Lodge offers cottages and campsites in a beautiful relaxed setting on Baptiste Lake. Cottages retain the traditional charm of the past but are fully modernized, clean and updated. Check out our website at www.birchclifflodge.ca. Or Call us at 613-332-3316

Blue Moon Retreat (Bancroft/Barrys Bay, Algonquin Park) 800 659 9448
Luxury cottages on peaceful lake; private hot tubs & saunas, Jacuzzis, water trampoline, kayaks, canoes, paddle boats, fireplaces, AC, DVD players, WI-FI & more all at no extra cost. 4 for 3 and 3 for 2 Specials year round. A few openings for 2nd half of August Click here to see vacancies.

Blue Spruce Resort (Oxtongue Lake) 705-635-2330
Casual, warm, friendly atmosphere A 4 season Luxurious housekeeping cottage resort 5 minutes from Algonquin Park. Cottages, studios and suites, kitchens, fireplaces, TV/VCR. Studios and suites are air conditioned. Some cottages have jacuzzi tubs, tennis, sandy beach, boats, waterskiing, Winter cross country ski trails, toboggan hill, snowmobile trails at your door

Blue Water Acres (Dwight, Muskoka) 800-461-4279




Modern lakeside cottages, about 2 1/2 hours drive North of Toronto. 1, 2 & 3 bedroom cottages, well spaced providing lots of privacy. All have kitchens, wood burning fireplaces, and charcoal BBQ. Indoor pool, sauna, whirlpool, sandy beach, free use of non-motorized boats, kids activities. Winter activities. Only 15 minutes from Algonquin Park. www.bwacres.com

Bondi Village Cottage Resort Dwight, Algonquin 888-300-2132
Modern 2-6 bedroom units on Lake of Bays. Relaxed, uncrowded family vacations on our own 600 acres. Fully equipped modern kitchens, 3 or 4 piece baths, All with superb uncrowded views. www.bondi-cottage-resort.com

Booker's Clear Lake Cottages (Emsdale) 705-636- 5354
15 minutes north of Huntsville, Muskoka. Twelve 2 & 3 bedroom cottages with kitchen, some with wood fireplace, or gas fireplaces, 3 piece bath, some with TV, VCR, cable. 400 ft. shallow sandy beach, playground, badminton, rowboats, paddleboats, canoe, Rainy Lake access to Algonquin Park, On the snowmobile trails TOPS trail D, 95 96 All cottages are non smoking www.clearlakecottageresort.com

Cedar Grove Lodge (Huntsville) 800-461-4269
Individual lakeside cottages on Peninsula Lake. All rates include 3 meals per day. All cottages have a wood burning fieldstone fireplace, we supply all wood and firelogs free of charge. Free use of all non motorized boats, fishing, tennis, swimming, hiking and relaxing on the dock! www.cedargrove.on.ca

Clearview Cottages (Emsdale) 705-636-1216
Located on pristine Clear Lake, just 15 minutes north of Huntsville. Two and three bedroom fully equipped cottages. Four cottages are lakeside with screened porches and decks. Enjoy free use of kayaks, canoes and paddle boats. Play on the water trampoline, moonwalk and floating iceberg! Cottages are non-smoking. Pets Welcome. Website: www.clearviewcottages.com

Clyffe House Cottage Resort (Huntsville, Port Sydney) toll free 866 335 2236
A small, self catering, family cottage resort in Muskoka with shallow, sandy beach and all amenities. Clyffe House provides quality vacations by offering an exceptional Muskoka property with above-average facilities. Spring and Autumn, Clyffe House caters to family reunions, small weddings, corporate team-building retreats, Huntsville Triathlon and club outings. www.clyffehouse.com

Colonial Bay Cottages Huntsville 800-916-2008